Growing up, I used to hate beans so much, anytime my mum made beans (the one with palm oil and crayfish), I would beg her to let me make noodles for myself, of course, she never agrees, so I would hiss, and twist my face but still finish the beans. Then one day I tried Ewa agoyin from a street hawker, and boom, I saw the light! I knew I had to learn how to make this.
If you are like me that doesn't fancy regular beans, then this is perfect for you. To make authentic Ewa agoyin sauce, you need peppers, and not your regular peppers. Tomatoes are a no-go-area, and fresh peppers won't do the trick. Heads up, It's an oily dish but is worth all the calories.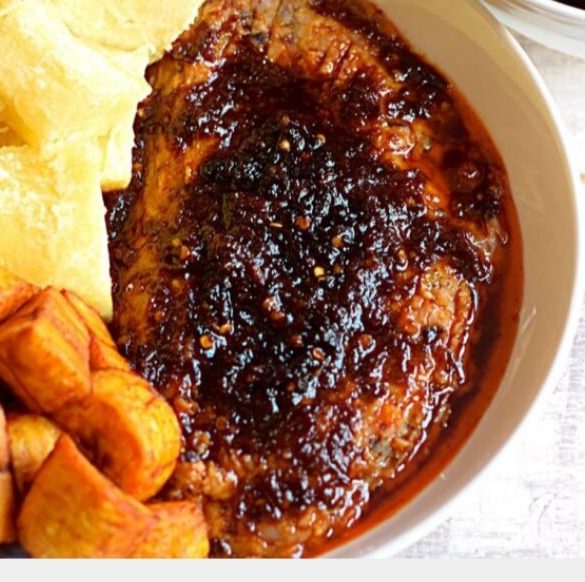 Ingredients
One large onion

2 cups of black eyed beans

Palm oil

Stock cubes

Salt

Ground crayfish

2 tablespoons of grated ginger

Dried chilli pepper (shombo or tatashe) (10-12 fingers)

2 tablespoons of dried/ground pepper (ata gigun)
Instructions
PREPARATION
Soak your dried peppers in water till they get fleshy or plump, you can do this overnight. Add the grated ginger and crayfish and blend it all together, you can make it as smooth as you want, depending on your personal taste.
Wash and peel the beans and pour enough water to cover it, do not add salt till its soft. You can cook with a pressure pot to make it faster.
Slice your onion.
While the beans is cooking, let's get started with the sauce.
MAKING EWA AGOYIN SAUCE
Get a pan and add your oil (bleach the oil for about 10minutes over low heat), add your sliced onions, fry till it changes colour to brown and then add your blended pepper, stock cubes, salt, and if you want to use any additional ingredients such as fish or meat, you can add it at this point.
Fry on low heat for about 30minutes, occasionally stir so the sauce doesn't get burnt.
You should be able to perceive the aroma of the sauce at this point, the sauce should be dark-coloured but not burnt and slightly thick too.
Your sauce is ready.
Check on the beans and once it's soft, add salt to taste. The beans can be mashed up if you want, I like mine just soft so you can adjust to personal taste.
Enjoy your Ewa agoyin and sauce!