"Asaro" as it's called in Yoruba, is a yam pottage (Although it is commonly referred to as porridge in Nigeria, Asaro is technically a pottage). It is mashed yam, with a very peculiar colour and cooked usually made by the Yoruba people. This tomato stew infused dish, can either be prepared very mushy or you can have it part mushy, depending on personal taste. Most people also add vegetables to their Asaro to spice it up; still comes out delicious either ways. The dish is yummy, nutritious and easy to prepare.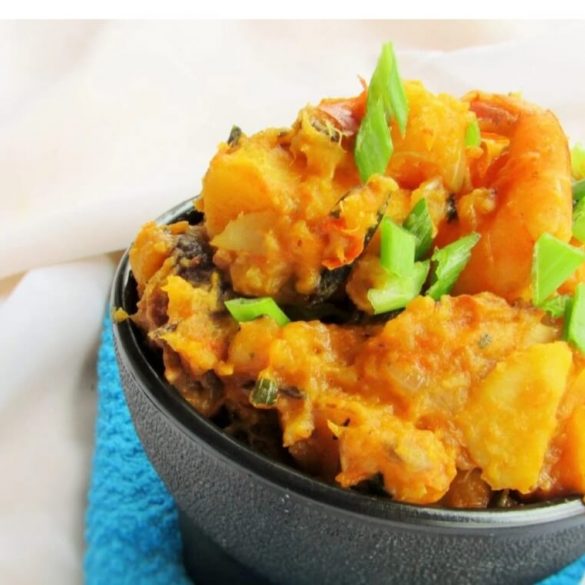 Ingredients
1 kg of yam

Palmoil (to colour)

Smoked or dry fish

Crayfish

Onions

Fresh green vegetable - pumpkin (ugwu) leaves will do the trick

Habanero and scotch bonnet peppers (you can add some tomatoes)

Stock cubes

Salt (to taste)
Instructions
PREPARATION
Peel and cut the yam into medium sizes, then wash and place in a sizable pot. Wash and blend your pepper, making it slightly rough, then set aside. Slice the onion, clean and remove the bones from the fish. Wash and chop the vegetable leaves.
HOW TO MAKE DELICIOUS, MOUTHWATERING ASARO
Place the pot with the yam on the cooker, add just enough water to cover the yam cubes and let it boil on medium heat. You can also add your dry fish at this point to soften it up. Add some palm oil in the pan, bleach slightly on high heat, then reduce to medium heat and add your onions, let the onions fry for about 3minutes and add your blended pepper. Fry this till the raw taste is no longer present, you can stir at intervals to prevent the sauce from getting burnt.
When the yams have boiled for some minutes, add some onions, ground crayfish, smoked fish, fried pepper, palm oil, stock cubes and salt. Cover the pot and continue cooking till the yam is done. Stir thoroughly and cook on high heat for about 3minutes, then add your vegetable leaves, stir and leave it to cook for 3minutes, then SERVE!!!
Notes
THINGS TO WATCH OUT FOR: Watch for the water you add when about to boil the yam in case you want it part mushy Also, check for palm oil and salt when cooking Scent leaves (efirin), can also be used in place of pumpkin leaves
Asaro can be served with meat, fish, egg, plantain or even straight from the pot.