Beans porridge is a popular Nigerian dish. Growing up I was not really a fan of beans porridge, I had to be threatened to eat it or else I wouldn't grow tall, shocker I am not. Presently it's my favourite dish to prepare and eat, its like a comfort food for me. Many people eat it with bread or soaked garri, recently I even found people who take it with pap. The key to getting delicious beans porridge is to cook the beans to soft perfection, nowadays, that's easy because you can use your pressure pot. There are different methods and types of beans porridge but mine is the easier and fast choice.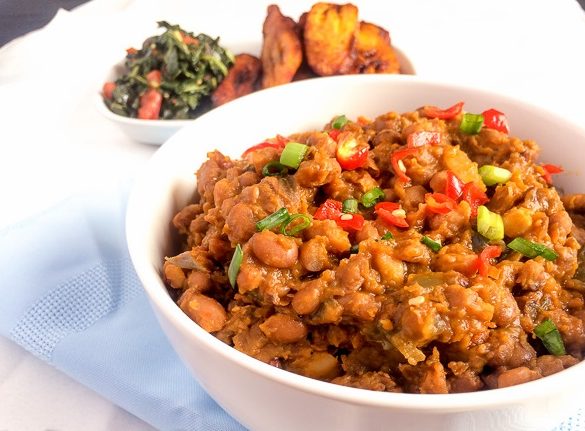 Ingredients
Honey Beans (Ewa Oloyin)

Onions

Tatase

Pepper

Knor cubes

Palm oil

Salt

Crayfish

Dry fish (optional)

Sugar (a pinch)
Instructions
Pick and wash beans
Boil beans in pressure pot for 20mins till its soft
Blend onions, tatase and pepper
Blend crayfish and wash dry fish
Put soft beans into a different pot
Add blended mixtures into pot
Add dry fish and water, the water should only be slightly above beans level
Add palm oil, sugar, knor cubes and salt to taste
Cook for 20mins and its ready to be eaten
Notes
You can use other types of beans, I just prefer honey beans. If you want you can add tomatoes to your beans, it also works.
Kitchen items needed: