Jollof rice is a very popular dish in Nigeria and has stirred a lot of arguments between Ghana and Nigeria on whose is the best, I haven't had Ghanian jollof so u can guess what my answer is lol. There are several ways you can make jollof rice and it comes outs delicious. Party jollof rice is my favourite because of the firewood tatse and flavour. For me the key to a perfect jollof rice is not parboiling it and using bay leaves. I will give one method today and subsequently upload other methods.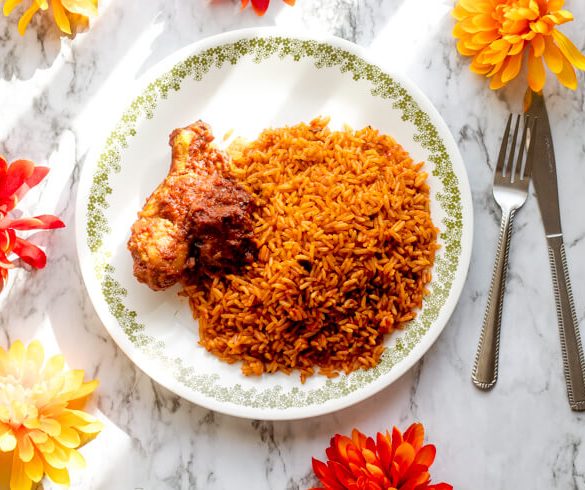 Ingredients
Meat (or chicken but I will be using beef for this recipe0

Onions

Tomatoes

Tatase

Pepper

Thyme

Curry

Garlic

Bay leaves

Knor cubes

Vegetable oil

Salt

Rice
Instructions
Wash and boil meat with thyme, knor cubes, salt, garlic and onions.
Separate stock from meat and fry meat.
Blend onions, tatase, pepper and tomatoes to a fine paste
Fry oil and onion with a drop of salt, then add blended paste and fry till all the water in it is gone
Add stock and leave to boil
Wash rice thoroughly to remove starch
Add washed rice to the mixture and leave to cook
Once water is almost finished in the rice, use a foil to wrap and cover pot tightly and leave on the lowest heat for 20 mins to get soft
Serve when ready with beef, salad etc
Notes
Important things to note is you can use every type of rice if you can measure the quantity of water or stock used in making it. Rice just requires steam to cook it so its normally cooked on low heat or else it burns and its still raw
Kitchen items needed: