Just who doesn't love a good, properly pounded, lump absent, soft and hot pounded yam? This is a classic Nigerian staple food common to the Yoruba people. It comes out stretchy, when properly made and quite satisfying.
The most popular combinations are pounded yam with egusi soup, pounded yam with efo riro, pounded yam with white soup and many more.
Pounded yam is quite easy to make, though the pounding part requires a bit of manual labor as the yams need to be well pounded to avoid lumps. A lot of people now use yam flour, which is similar to making eba, all you have to do is boil water and add the flour to make "poundo" as its commonly called. It comes out nice, but of course not like the real pounded yam, there is always a subtle change in taste and texture. There is another alternative to avoid all the hard work of course.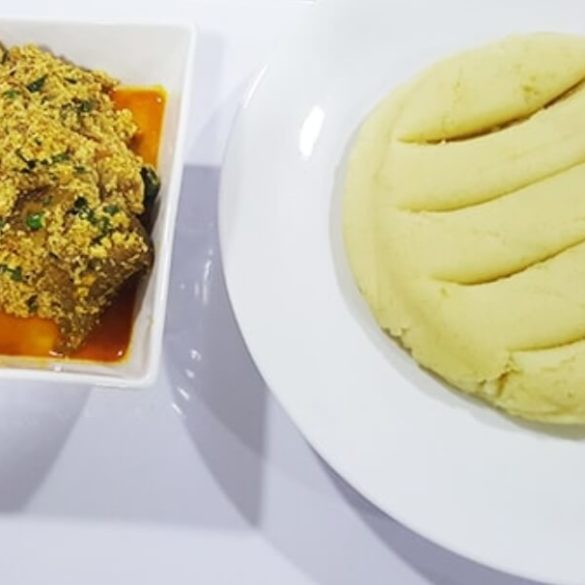 Ingredients
A tuber of yam

Mortar

Pestle

Water

A cooking pot

Kitchen knife.
Instructions
Peel and cut the yams into different sizes, preferably medium size. Wash and place in the pot and add enough water to cover the yam cubes. Be sure that the yam cubes are completely submerged in water.
Cook for about 15minutes on medium heat, check to see if the yams are soft enough, you can do this by checking with a fork. If the yams are not soft enough, keep boiling. However, if the yams are soft enough, then you can proceed to the pounding part. Do not the dispose the water, becauseyou will need it when pounding, sometimes the yam gets very hard when pounding and while you can use ordinary water, it's better to use the water left from the boiling the yams.
Use a fork to transfer the boiled yam cubes into the mortar. Press the pestle into the cubes to scatter them and ensure they are seedless. You can start pounding, intermittently turning the paste over and adding water when necessary until you have a soft, stretchy and smooth pounded yam.
Note that newly harvested yams are used to make pounded yam.
In the absence of manpower, a food processor or even the common blender can be used to make pounded yam.
The yams should be cut into very small sizes, boiled and then transferred into the blender or processor and then blended till it becomes a paste. It is faster, requires no man power but cannot be used for making pounded yam on a large scale.