Nigerian stewed okra, popularly known as ila asepo or ila alasepo is a delicious, mouthwatering draw soup specifically
for swallows such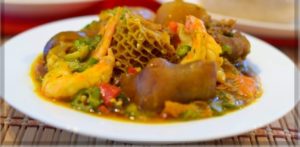 as eba, amala, fufu, semo and so on. A variant of white okra, ila asepo is richer, yummier and requires no stew whatsoever, a queen on her own that requires no help.
Ila asepo can be made with regular everyday ingredients such stockfish, crayfish, ponmo, smoked fish, locust beans, and of course okra. However, ila asepo can also be served as an exotic dish with seafood such as prawns, shrimps, and crabs. Surf and turf ila asepo.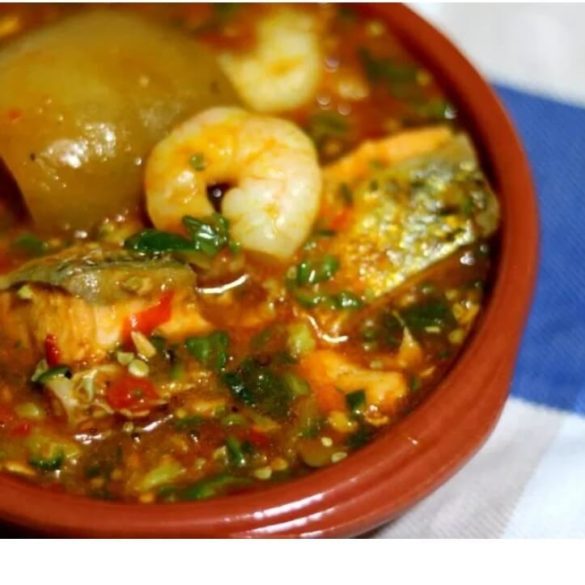 Ingredients
Tatase (habanero peppers)

Rodo (scotch bonnet peppers)

Onion

Locust beans

Smoked fish

Ponmo

Stock fish

Assorted meat (tripe, liver, kidney)

Beef

Seasoning (salt, stock cubes, curry, thyme, dry pepper)

Palmoil and of course a small bowl of okra.

For this particular recipe, we will be making the regular ila asepo for ease of sourcing for ingredients.
Instructions
PREPARATION
Thoroughly clean and season your assorted meat and beef. Add just enough water to cover the top of ingredients, and boil for about 30minutes on medium heat. Note, the tripe may take longer to soften up and so when testing to see if the meat is done, always test with the tripe. Add the cleaned stock fish to the mix just five minutes before taking it off the cooker (alternatively, you can just soak in hot water for about 15minutes but boiling works faster).
Clean and blend the pepper, its better if its roughly blended (though optional), slice the onions, clean out the smoked fish and remove the bones, wash the locust beans, clean and cut the ponmo into small sizes and we are ready to cook.
STEP BY STEP
Get a medium sized pot, add about 3spoonfuls of water, add the chopped okra, sliced onions and cover the pot. Allow the mix to boil on low heat for about 15mins. The okra should have properly mixed with the water and onion after this, add 2spoonfuls of palmoil and all the pepper, stir and cover up, let it boil some more for about 6minutes
Add the locust beans, ponmo, stock fish, smoked fish and boiled assorted meat and beef and stir. If you want to add the stock from the beef and assorted meat, now is the time to that, before adding anymore seasoning. If not, you can add your maggi cubes, thyme and curry (optional) and
salt to taste. Add the quantity of dry pepper you'd prefer depending on how spicy you want your soup.
Leave the pot open and cook for about 3minutes and there you have it, your ila asepo is ready to be served with your choice of swallow.
Kindly note that any of these ingredients can be substituted for other ingredients of your choice. You can always include additional ingredients depending on your preference.
Ila asepo is better enjoyed within the first day it's made, nonetheless, it's an amazing dish.