Efo riro is a Nigerian delicacy, a rich Yoruba dish that is quite popular for its deliciousness, (when properly cooked) and health benefits. It is the traditional soup of the Yoruba tribe and well known for its richness and accompanying savory taste. The interesting thing about this dish is its ability to take in an extensive variety of ingredients and still come out tasting heavenly. You can basically add as much ingredients as you want depending on your preference and still have a delicious bowl of efo riro smiling back at you. Efo riro can be prepared with a wide range of assortments such as assorted meat, stock fish, smoked fish, dry fish, beef, cray fish, locust beans, ponmo, snails, you name it. The beautiful thing about this delicious soup is that it can be eaten with practically anything and even though it's a yoruba dish, it is enjoyed in all parts of Nigeria. Here's a detailed efo riro recipe that you can use and adjust (depending on personal taste) for your cooking needs.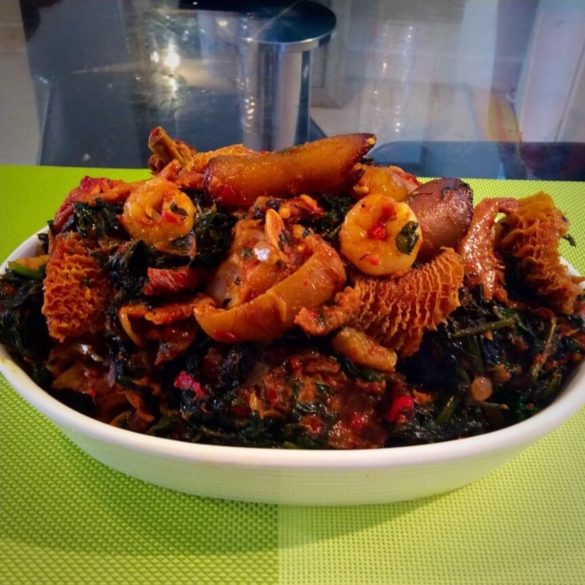 Ingredients
A bunch of efo soko or tete (picked, sliced and washed)

One large onion

5 bell peppers (tatashe) and 4 scotch bonnet peppers (rodo)

2 spoonfuls of palmoil

3 tablespoonful of ground crayfish

4 teaspoons of iru (locust beans)

4 stock cubes (either knorr or naija bottom pot will do the trick)

One medium sized piece of ponmo

200 g of assorted fish (smoked or stock fish)

200 g of assorted meat (tripe, liver, and others).

Salt to taste.
Instructions
LET'S GET STARTED….
Prepare your ingredients before the actual cooking begins so as to save time, energy and manage your kitchen space efficiently. Pick, sliced and rinse your vegetable leaves, then set aside in a drainer to remove excess water. Clean the fish and remove the bones too. Wash and rinse the ponmo, and chop into small sizes. Wash, season and boil the assorted meat till it's very soft. Slice the onion, wash the locust beans and blend the pepper (the tatashe and rodo). After doing all these, the real cooking can start.
THE STEP BY STEP ART OF MAKING EFO RIRO
1. Place your completely dry pot on the cooker, turn up the heat a bit and pour your palm oil. Keep heating it up till it starts giving you a little smoke, then add your sliced onions, fry for about a minute and add your seasonings (salt and stock cube). Some people add a bit of thyme and curry(optional). Stir the mixture, then add your chopped ponmo, iru and stock fish (or dried fish). Reduce the heat and cover up the pot. Leave or about 2-3 minutes.
2. Add the blended pepper and ground crayfish and stir together. Leave for about 5mins to thicken it, then add your assorted meat in order absorbed the sauce and release the stock.
3. Taste for salt and allow to simmer
4. Add the vegetable leaves to the sauce without stirring it, making it 2 layers with the sauce underneath. Cover the pot and leave to cook for about 3minutes.
5. Stir the efo with the sauce, be sure to mix it up equally so the sauce and other ingredients can be distributed properly.
6. Note that, if you are using smoked fish, you might want to add it just before adding the vegetable leaves so it doesn't end up scattering and disappearing in the sauce when you stir.
There you have it, you delicious, traditional efo riro is ready to be consumed with either pounded yam, eba, semo, amala, or even rice or boiled plantain.
Easy to make, doesn't take so much and very sumptuous. What's not to love?