Fried rice is a universal dish, it is one of the most widely eaten Nigerian food enjoyed by different people from different parts of the world. It is not exactly very easy to make and can come out not so perfect at first, but like the say, practice makes perfect, after a few times of making it, it gets easier. Fried rice can be paired with grilled, fried or barbecued chicken or turkey, fish, beef, plantain or even salad. It is perfect for any occasion.
This particular recipe I want to share is quite easy to follow, not stressful and also leaves the fried rice delicious and sizzling.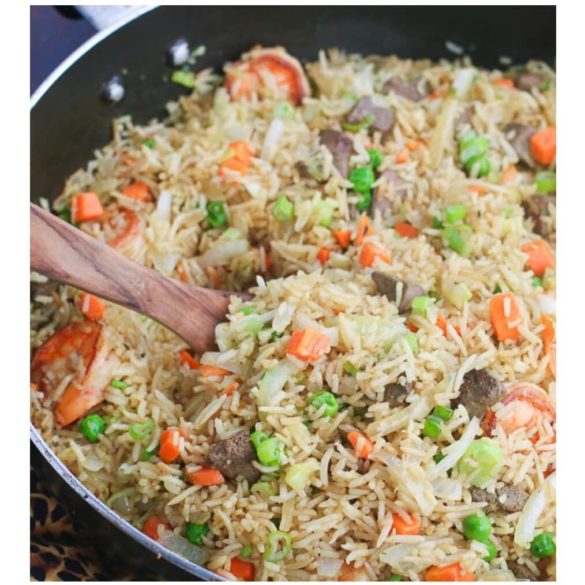 Ingredients
Carrots

Onion

Green peas and running beans

Sweet corn

Vegetable oil

Boiled Liver or corn beef or sausage

Green pepper

Red pepper (optional)

Thyme and curry

Stock cubes and salt
Instructions
PREPARATION
Wash and slice your carrots, onions, and peppers.
Open the canned green peas and sweet corn and drain in a sieve
METHOD
Put your frying pan on the cooker, turn on the heat a little, add your vegetable oil (just a little bit of it that will soak up the ingredients, you don't want the oil pooling at the base of your veggies) and let it heat up a bit. Add the sliced onions, thyme, curry, stock cubes and a little bit of salt and let it fry together, stir with a spatula to prevent it from sticking to the pan.
Now you are going to start frying the ingredients and you want to start with the carrots (being the hardest), fry the carrots with the onions till its tender (not soft, just tender), after this, add your running beans and peppers and keep stirring till its evenly distributed.
Next thing is to add your chopped liver (or corn beef or sausage, which ever you prefer), fry for 2minutes and add your green peas and sweet corn, stir and fry for 2mins. By now you should have a perfectly fried mix of vegetables with no excess oil at the base.
You can set aside while you work on the rice.
Wash the rice and drain then set a big pot over the cooker, pour a bit of oil into the pan and add sliced onions, stock cubes, thyme, curry and salt to taste. Pour the drained rice into the pot and stir till it mixes properly with the onions and seasoning. Keep stirring and turning for about 20minutes till the rice is properly fried.
Add about two small cups of hot water, just enough to submerge the rice and cover to cook. You might need to keep adding bits of water before the rice is soft, but you have to be careful so that the rice doesn't retain water or become soggy.
Once the rice is properly cooked, get a medium sized container and start mixing the ingredients with the rice in the container, stir and mix ingredients evenly with the rice, and your fried rice is ready to be served. Enjoy!