Egusi soup is a fat and protein-high oil content dish. Its origins can be easily traced to the West African part of Nigeria. Made from ground melon seeds, its contents include vegetables and a wide variety of meat and fish. There are different ways of making egusi soup, the two most popular being the fried and boiled method.
Egusi soup is rich, delicious and easy to make. It is nutritious and can be paired with pounded yam, eba, fufu, semo or any other swallow that is preferred. Some people even enjoy it with rice, no limits yea? I know!!!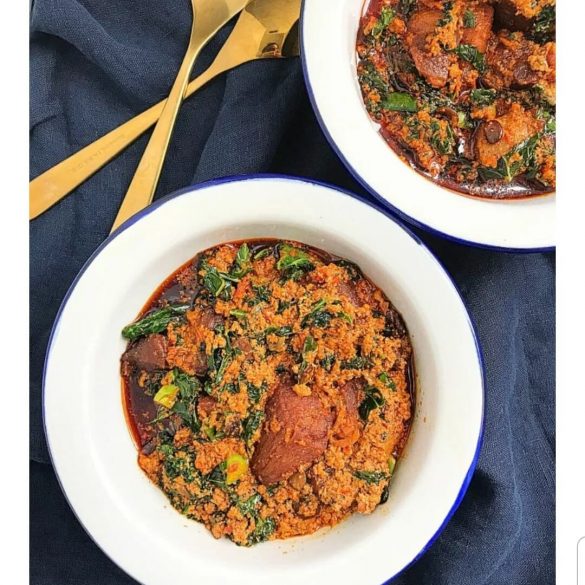 Ingredients
Melon seeds

Onion

Pepper (tomatoes, habanero and scotch bonnet)

Palm oil

Locust beans

Crayfish

Pumpkin leaves (ugwu)

Assorted meat (tripe, cow lungs, bokoto)

Ponmo

Stock fish

Dry fish

Salt

Stock cubes

Note that you can add as many ingredients as you so wish depending on personal taste.
Instructions
PREPARATION
Wash and blend the peppers with half of the onion adding just a bit of water and set aside.
Clean, wash and slice the ponmo into smaller sizes.
Wash and slice the ugwu leaves and place in a drain to get rid of excess water.
Pick and blend the melon seeds with crayfish and the remaining half of the onion, you need the paste thick, so just add as little water as possible to give it a thick consistency and to allow the resulting egusi to be curdled not scattered.
Wash and put the assorted meats in a pot, add the stockfish, stock cubes, salt and other seasoning and boil over medium heat.
THE FRIED EGUSI METHOD
Set your pot on the cooker and pour in just enough palm oil, fry the oil over low heat, you don't want it too fried (bleached), add sliced onions, stock cubes and locust beans. Fry for 5miuntes and pour the puree, stir slightly and let the mix cook together for another 5minutes. Then add the blended melon, be sure not to stir so as to give it time to curdle. Leave it for about 15-20minutes to curdle, stir briefly then add your boiled assorted meat, stockfish, chopped ponmo and deboned dry fish, you can check for salt and if it's enough, add some meat stock and leave to cook for about 15minutes.
The last thing to add are the ugwu leaves, spread the leaves over the contents of the pot, leave for 2minutes and then stir together.
Your egusi soup is now ready!