You want a quick, fiftfam approved, ready to go sauce, this is your go to dish. Its super easy to make, packed with vegetables and an avalanche of flavor. Apart from fact that it tastes amazing and goes perfectly with a lot of staple foods, it is super colorful and attractive. Another great thing about a veggy stir fry is that you can throw in just about any protein and it still works, beef, fish, chicken, you name it.
You have unexpected company? make a stir-fry
You have left over meat in the refrigerator? make a stir-fry
Need an inexpensive dinner to feed a family? Make a stir-fry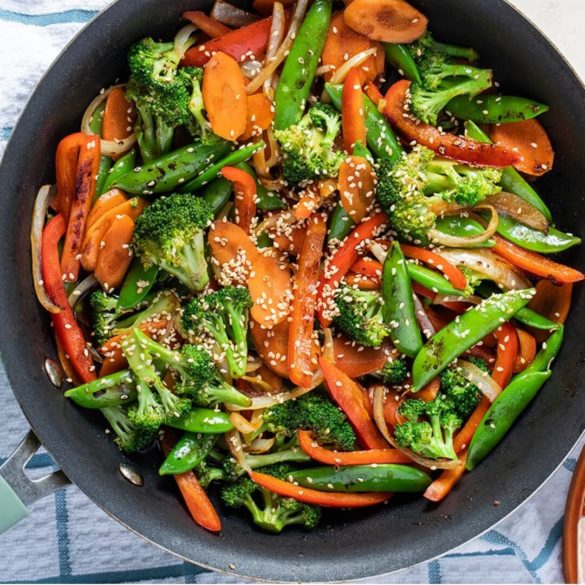 Ingredients
10 sticks of carrots

3 green bell peppers

3 red bell peppers

3 yellow bell peppers

Sweetcorn

Green beans

Runner peas

1 large onion

Chicken

Vegetable oil
Instructions
Wash and slice/ chop the vegetables into small sizes. Season and boil the chicken, cut up into small chunks and slightly fry till you get a golden brown colour.
Let's Get Cooking
Heat up the vegetable oil (just one spoonful will do the trick to avoid the oil pooling at the base of the pan). Next, add your sliced onions, stock cube and salt to taste, leave to fry for about 1min on low heat. Stir and add your carrots, it's better to add the denser vegetables first. Allow the carrots to soak up the oil, do not add a lot of ingredients at the same time. Fry for 7mins, then add your peppers (green, red and yellow), fry for 3mins and add your runner beans. Stir the mix and let it fry for 2mins.
Finally, add the sweet corn, stir, add the green beans and the chicken. Stir the mix, and leave to fry for another 3minutes and your stir fry vegetable sauce is ready to go.
Notes
You can throw in any vegetable or protein you want and the sauce will still come out perfect, but for this quick recipe we will be sticking to the ingredients mentioned above. You can add more oil if you are not getting the sizzling sound from the pan or you feel the oil has dried out You can also add spices such as garlic, ginger and soy sauce. To thicken the mix, you can add a potato blend or cornflour