Fish stew (atadindin), is a spicy delicious stew eaten mostly by the yorubas (western) in Nigeria.It basically goes with any meal, rice, yam (fried and boiled), pasta, beans, even potatoes (Irish and sweet). It's easy to make, nutritious and requires no special skills. You can use any species of fish that you like, personally I prefer to use Titus fish also known as mackerel. It is delicious and a rich source of omega-3 fatty acids and vitamin A and D.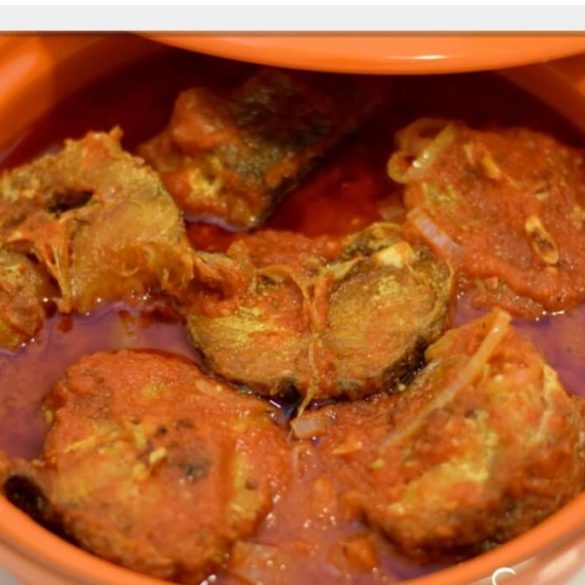 Ingredients
Tomatoes (a small bowl)

Habanero peppers (a small bowl)

Scotch bonnet pepper (varies, depending on how spicy you want it)

Fish

One large onion

Stock cubes

Salt

Seasoning

Vegetable oil
Instructions
PREPARATION
Cut and clean out the fish removing the gills and blood clots the rinse and drain in a sieve. Add oil to your frying pan (excess oil is better used when frying because the fish comes out crispy and whole and it reduces the splashing of oil). Arrange the fish pieces and fry (not too soft and not to dry) then set aside.
slice the onion
Blend the pepper and boil it for about 20 minutes to remove excess water.
THE MAKING…
Add vegetable oil (you can use the oil from the fried fish) to the pot, allow it fry a bit and then add the sliced onions. Fry and stir for about 3 minutes over low heat and add your salt, stock cubes and seasoning to taste. Pour the boiled pepper into the pot, stir and then carefully place the pieces of fried fish in the pot and stir slowly so they don't break or scatter.
Cook for about 15 minutes and serve with any meal of your choice.
Easy right? Enjoy!